For Storm in the Night, we discussed fears, the science of thunder and lightning, the Bible story of Jesus calming the storm, compared Grandfather and Thomas, did copywork, listened close to sounds especially in the dark or with our eyes closed, and sources of light.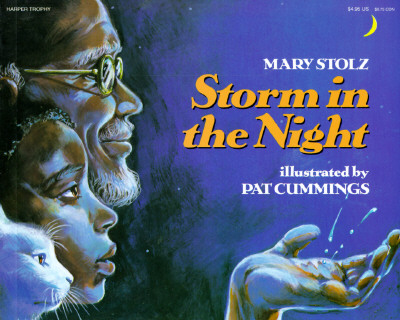 For The Storm Book, we discussed landforms and geography, wind and made an anemometer, rainbows, and some poetry. We listened to parts of this book a lot with our eyes closed as it is very descriptive in its writing. We made sounds like storms.


Thundercake was Gabe's favorite he tells me. We again talked about fears and doing hard things, family, did copywork, geography of Michigan and Russia, how to set a table, made more storm sounds, and made our own thundercake. We finally got a storm during the reading of this book.
Next came Time of Wonder and we read Psalm 46:10 and he copied it, we then talked about all the amazing wonderful things that God has given us and specifically the things that make them wonder what or why, we did some geography of Maine, studied time, reviewed our cloud types, talked about hurricanes, made a tornado in a bottle and ocean waves in a bottle, talked about tides and moon phases, and animals that live in the area. We were tempted to take a last minute overnight trip to the ocean but that didn't work out. Maybe soon. ;) We also had a tree nearby that uprooted during an ice storm, just like a tree in the book did, so we went to check it out. Sadly, we didn't find any hidden seashells under it, only water, but it was cool anyway.

Lastly we read Burt Dow, Deep-Water Man. This was Ezra's and Olivia's favorites they tell me. We discussed the lifecycle of a fish, sorted fish (fresh water v saltwater, kosher v non-kosher, ones we have eaten and ones we haven't), compared fish with sea mammals, fishing idioms, types of fishing, gear and safety needed for fishing and Olivia even made a fishing net! We then finished this out by going fishing. Gabe was the only one who got lucky enough to land a small catfish.
During the readings of each of these books, we did a picture study of some of the works of Vincent VanGogh. I came across his work called Wheatfields in Rain, Harvest, and another one called A Public Garden with People Walking in the Rain. That led to our picture study but we have done 6 or so of his more famous pictures including Starry Night.